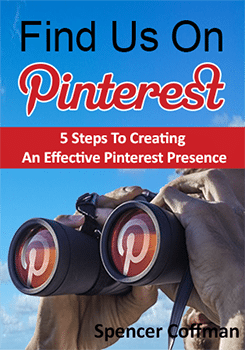 What Exactly To Do On Pinterest
How To Optimize Your Account
The Best Ways To Get Followers
How To Rank In Search Results
And Much Much More!!!
"If you don't have a good social media presence, then you're missing out! What's worse, is that you could be doing serious harm to your business!"
Find Us On Pinterest is a step-by-step guide that will take you through the process of structuring a solid Pinterest account. You will lay the foundation to start getting massive amounts of followers and conversions from the content you share on Pinterest. You'll learn how to use Pinterest to grow your business and will be able to grow your following in record time!
Get A Sample Of Find Us On Pinterest FREE!
Spencer Coffman understands the impact that social media can have on your business. That's why he manages and maintains over 40 different social media accounts! He knows what it takes to grow a following and how to convert those followers into customers. Now he's sharing that with you!
Title: Find Us On Pinterest
Format: PBK, eBook
Author: Spencer Coffman
Cover Design: Spencer Coffman
Editor: Spencer Coffman
Publisher: Spencer Coffman
Date: February 2, 2018
ISBN: 978-1-9814918-5-8 (Paperback)
ISBN: 978-1-3866688-1-7 (Digital)
Dimensions: 5 x 8 x 0.3
Weight: 4oz
All Rights Reserved
Here are additional resources that you can use to help you grow your Pinterest account.