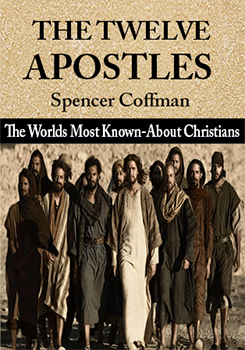 Name the Twelve Apostles?
Tell how they died?
What about how they lived?
Or do you only know "about" them?
"The Twelve Apostles is an amazing study that will introduce you to the disciples of Christ. It will change your life!"
The twelve apostles were some of the greatest Christians that ever walked the earth. They are the most known-about Christians in the world. Unfortunately, they are known-about, not known. Today that is going to change. You are going to read about the lives of each of the disciples of Christ and learn about who they were. These men were hand selected by Jesus and left everything to serve Him. Dedicate the time to learn about and understand these great men. Allow their stories to change and improve your lives today!
Spencer Coffman grew up going to Sunday school and church on a weekly basis. He went through the AWANA program and memorized over 1500 Bible verses to earn the Timothy Award, Meritorious Award, and the Citation. The highest AWANA award. When he was 15, he led an adult Bible study in church with 20 or so regular attendees who discussed a variety of controversial topics throughout the Bible. Since then, he has continued to study the Bible and discuss the topics within.
Title: The Twelve Apostles
Format: PBK, eBook
Author: Spencer Coffman
Cover Design: Spencer Coffman
Editor: Spencer Coffman
Publisher: Spencer Coffman
Originally Published: March 5, 2018
ISBN: 979-8-6087749-7-3 (Paperback) January 2020
ISBN: 978-1-3868404-6-6 (Digital) March 2018
All Rights Reserved