Deception Tips: 101 Cues To Detecting Deception
Product Details
Format: eBook
Author: Spencer Coffman
Cover Design: Spencer Coffman
Editor: Spencer Coffman
Publisher: Spencer Coffman
Date: January 2018
ISBN: 978-1-3701947-9-7 (Digital)
All Rights Reserved
How good are you at reading people?
Wanna be better?
Start learning the language everyone knows yet very few understand.
Body Language.
You don't have to be in the dark always wondering if someone actually means what they are saying.
Now you can know. Body language always tells the truth and you have the power to never be deceived again!
No more scams, cons, or getting the wool pulled over your eyes.
It's time for you to learn how to detect deception!
How many more times will you wonder whether or not your child is telling the truth?
How often will you fall for the same old story in your relationships?
When's the next time you'll miss out on a sale because you couldn't quite read your target?
The Answer…
NEVER AGAIN!!!
Body language is present everywhere and if you can read it, you will be much better able to see exactly what someone really wants to say.
So how can you read it?
Introducing
Deception Tips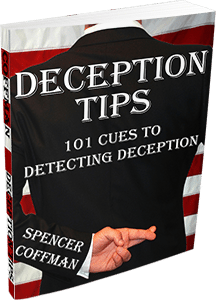 101 Cues To Detecting Deception
Lies and deception can really take a toll on your emotions and you need to be able to protect yourself and recognize what people are really saying.
When you are able to understand body language there's no telling what will happen!
You'll finally be able to…
Protect yourself from emotional damage.
Know whether or not you are about to get ripped off.
Start knowing what people are truly saying and learn what they really mean.
Increase your sales capability.
Understand what your kids are saying.
Give your customers exactly what they want but are afraid to ask.
Recognize the needs of your spouse.
The list goes on!    
I created this book because people loved the Deception Tips Blog, which was created because people loved A Guide To Deception.
Now you have the power of both resources in one handy location. You have many of the tips from A Guide To Deception and all of the tips from the blog in one great eBook!
The question is: what would you be willing to pay for such a valuable resource.
How much is this knowledge worth to you?
Deception Tips is packed with 101 full color images that you can learn from and review on a daily basis.
In fact, the value is truly priceless.
The good news is I want you to learn. I want you to have this book.
Even though it could easily be sold for $47 or more.
It's yours for this very special price.
That's right! And you can order it for any electronic device you like on many different online retailers so it's sure to work for you.
Yes! I'm ready to sharpen my body language skills and start reading people like never before!
Send my copy of "Deception Tips" so I can get started right away!
​Get A Sample Of Deception Tips FREE!
Purchase Deception Tips Today!