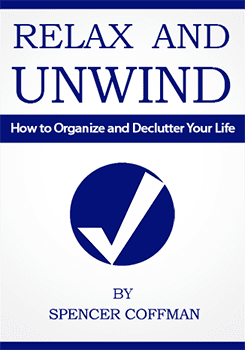 How to learn from your mistakes

How to minimize stress
How to control your happiness

How to be grateful more often
And much, much more!
"If you feel like life is starting to overwhelm you as though you're treading water and not really living, then this is the perfect book for you!"
Humans are busy creatures. We are always trying to do more, achieve more, and accomplish more. The trouble is that we can end up with too many spinning plates. Then, finally, there is a crash. In order to keep those plates spinning you need to take time to relax and properly organize your life. This book will show you exactly how to structure your life so you can declutter and get more done. Read Relax And Unwind Today!
Get A Sample Of Relax And Unwind FREE!

Spencer Coffman is a busy man. He writes books, articles, creates videos, and has managed over 60 websites, 40 social media accounts, and several YouTube channels. Spencer knows the value of efficiency and relaxation. How does he do it? Read Relax And Unwind to discover his secrets!
Title: Relax And Unwind
Format: PBK, eBook, Audio
Author: Spencer Coffman
Cover Design: Spencer Coffman
Editor: Spencer Coffman
Publisher: Spencer Coffman
Originally Published: March 25, 2016
ISBN: 978-1-5442643-0-1 (Paperback) March 2017
ISBN: 978-1-5337888-7-0 (Digital) March 2016
ISBN: 978-1-9871499-0-6 (Audio) November 2018
Dimensions: 5 x 8 x 0.3
Weight: 4oz
All Rights Reserved