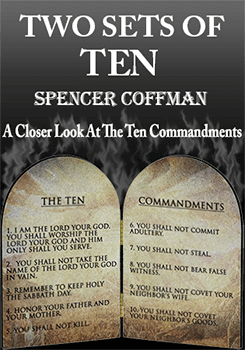 Do you know the Ten Commandments?
Can you name half of them?
If so, which commandments can you name out of which set of commandments?
Wait, you didn't know there was more than one set of Ten Commandments?
Well, there are.
This study will show you the Ten Commandments in a whole new light. You will discover what they are and how you can live by them every day and you'll realize that doing so is a lot harder than it seems. In addition, you will also dig deep into the Word of God to find out the stories behind the Ten Commandments and why it is so important for you to use them as a guide for your life.
Spencer Coffman grew up going to Sunday school and church on a weekly basis. He went through the AWANA program and memorized over 1500 Bible verses to earn the Timothy Award, Meritorious Award, and the Citation. The highest AWANA award. When he was 15, he led an adult Bible study in church with 20 or so regular attendees who discussed a variety of controversial topics throughout the Bible. Since then, he has continued to study the Bible and discuss the topics within.
Title: Two Sets Of Ten
Format: PBK, eBook
Author: Spencer Coffman
Cover Design: Spencer Coffman
Editor: Spencer Coffman
Publisher: Spencer Coffman
Originally Published: September 2017
ISBN: 979-8-6522635-0-8 (Paperback) June 2020
ISBN: 978-1-3706173-0-2 (Digital) Sept 2017
All Rights Reserved