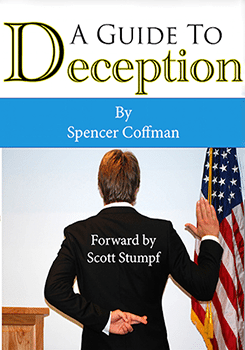 How to recognize lying eye contact
What a shoulder shrug really means
How a person feels when they cross their arms
What it means when a person's voice changes
That speech and body language must match
And Much, Much, More…
"Here is a book that is perfect for people of all ages and all careers. Whether you're young or old, working or retired, this book is for you!"
Learn the language everyone speaks but no one understands. Body language. This book will give you a great understanding of the hidden signs displayed by every person on earth. These unconscious behaviors are exactly that, unconscious. Because of this, they are unrecognized. However, with training, they can be seen and lies can be detected. Study the material in this book and you will be on your way to being able to detect deception wherever it occurs. If you ever plan on having a conversation with anyone ever again you will benefit greatly from reading A Guide To Deception.
Get A Sample Of A Guide To Deception FREE

Spencer Coffman has been studying emotions, facial expressions, and body language since 2010. He has been certified at the expert level in both the Micro-Expression Training Tool and Subtle Expression Training Tool by Dr. Paul Ekman. In 2013, he published new findings regarding humans' ability to accurately distinguish between real and fake smiles.
Title: A Guide To Deception
Format: PBK, eBook, Audio
Author: Spencer Coffman
Forward: Scott Stumpf
Cover Photo: Tom Webster
Editor: Spencer Coffman
Publisher: Spencer Coffman
Originally Published: September 23, 2015
ISBN: 978-0-9968562-0-1 (Paperback) Sept 2015
ISBN: 978-0-9968562-1-8 (Digital) January 2016
ISBN: 978-1-9871536-3-7 (Audio) November 2018
Dimensions: 5 x 8 x 0.25
Weight: 4oz
All Rights Reserved