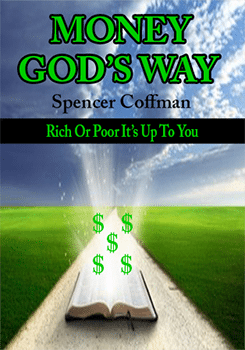 Manage Your Money Wisely?
Have Lots Of Money?
Know That It Isn't Your Money?
Want More Money?
???
"Money God's Way is a great devotion that will remind you why you have money and what you need to be doing with it."
This devotion will show you what the Bible says about money and how you can properly manage it. Money flows from the hands of those who don't manage it to the hands of those who do. It goes from the fools to the wise.
It's time for you to become wise with your money and manage money God's way. Remember, if the people of God don't take control of their money then it will flow into other hands – into the hands of the ungodly.
Spencer Coffman, a graduate of Dave Ramsey's Financial Peace University, knows how to manage money. He has played all of the investment games, taken courses, studied, and experienced a lot. He writes a number of financial blog articles and is determined to help people take control of their money. Money God's Way will show you how God wants you to handle your money so you can be blessed with more.
Title: Money God's Way
Format: PBK, eBook
Author: Spencer Coffman
Cover Design: Spencer Coffman
Editor: Spencer Coffman
Publisher: Spencer Coffman
Originally Published: March 26, 2018
ISBN: 979-8-6523282-8-3 (Paperback) June 2020
ISBN: 978-1-3869087-2-2 (Digital) March 2018
All Rights Reserved