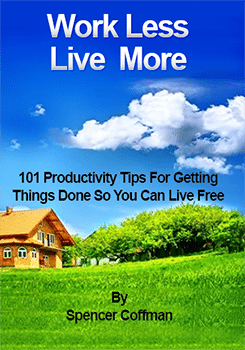 More Freedom To Do The Things You Love
Getting Your Projects Done Faster
Living A More Healthy And Fruitful Life
Stopping All Distractions In Your Life
And Much Much More!!!
"If you feel like all you do is work, and you never have the time to do what you want to do, then this is the perfect book for you!"
Work Less Live More will show you exactly what it takes to become a more productive person. You will learn many productivity tips to help you get more done in life. You'll see how you can make your life more efficient by implementing these quick and easy tips in many different areas. Alone, they may not be much, but when you combine them together you'll see some amazing results!
Get A Sample Of Work Less Live More FREE!

Spencer Coffman is a busy man. He writes books, articles, creates videos, has managed over 60 websites, 40 social media accounts, and several YouTube channels. Spencer knows the value of increasing productivity. How does he do it? Read Work Less Live More to find out!
Title: Work Less Live More
Format: PBK, eBook, Audio
Author: Spencer Coffman
Cover Design: Spencer Coffman
Editor: Spencer Coffman
Publisher: Spencer Coffman
Originally Published: April 2016
ISBN: 978-15449013-0-5 (Paperback) March 2017
ISBN: 978-1-5337612-3-1 (Digital) April 2016
ISBN: 978-1-9871230-2-9 (Audio) March 2019
Dimensions: 5 x 8 x 0.2
Weight: 4oz
All Rights Reserved