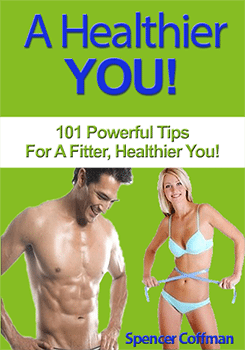 Are you looking to get fit?
Does eating healthy seem too inconvenient?
Is it about time you get in shape?
Do you want to eat well and be healthy?
If so, then start reading, because I'm about to share something very special with you!
"No Fluff, No Fillers! Only 101 useful tips that you can start using today to become a healthier you!"
A Healthier You will show you 101 amazing health tips that you can use to make your life better. They are easy to implement and very straight-forward so you'll have no trouble using several of them in your daily life. Follow these step-by-step techniques and you will start living a noticeably healthier life in no time at all!
Get A Sample Of A Healthier You FREE!

Having gone through several health trials of his own, a few of which were life threatening, Spencer Coffman knows the importance of living a healthy lifestyle and has made it his way of life. Now you can too! Read A Healthier You to find out how to live healthy the easy way.
Title: A Healthier You
Format: PBK, eBook, Audio
Author: Spencer Coffman
Cover Design: Spencer Coffman
Editor: Spencer Coffman
Publisher: Spencer Coffman
Originally Published: May 24, 2016
ISBN: 978-1-5466180-9-6 (Paperback) May 2016
ISBN: 978-1-5337396-5-0 (Digital) May 2017
ISBN: 978-1-0942259-2-0 (Audio) July 2019
Dimensions: 5 x 8 x 0.2
Weight: 4oz
All Rights Reserved